Information accurate at the time of publishing - last edited 22 July 2020
A couple of weeks ago, we released the latest update for Halo Downmix - version 1.3.0.6. This is a free update for all existing users, so if you haven't downloaded it already, you can get hold of it right now via your user area.
Alongside all the usual improvements under the hood and minor bug fixes, the biggest change in this update is that we have hugely increased the number of available output formats. Having previously only been able to downmix to 7.1, 5.1 and stereo, version 1.3.0.6 now adds various intermediate channel counts such as 7.0, 6.1, Quad, LCR and many more. Check out the table of downmix configurations at the bottom of this blog for the full assortment of available output formats.
Although it isn't a new feature, I thought this would be a good opportunity to write a blog about Halo Downmix's delay correction; how it works, and why you might need it.
Broadly speaking, the term "upmixing" can be used to describe any process where audio is promoted from one lower channel count up to another, higher channel count. Most commonly, you would probably be upmixing from stereo to 5.1, but as time goes on many more complex audio formats are becoming commonplace too.
Dedicated upmixing tools haven't been around for very long in the grand scheme of things, so in many cases when an engineer only had access to a stereo bounce (rather than individual stems), they would have had to improvise in order to create a pseudo "5.1" mix using delay, reverb and chorus effects. Upmixing tools which take into account downmix compatibility and phase coherence (such as NUGEN's Halo Upmix, although there are others) are an even more recent development. So sometimes, even upmixes which were created using a dedicated tool may not be entirely foldown-safe, especially if they were upmixed more than a couple of years ago.
The delay correction in Halo Downmix is designed to reverse the damaging effects of these legacy upmixing practices, ensuring your mix is phase coherent and avoiding nasty smearing effects. Click the 'Seek' button within Halo Downmix whilst your audio is playing, and the plug-in will measure and automatically calculate the amount of delay in the side channels. Then, all you need to do is enable the 'Delay' function, and your downmix should be brought back into phase. And if the automatically calculated delay time doesn't sound quite right to you, of course this can be tweaked and fine tuned until you hit the sweet spot!
If you've installed the latest Halo Downmix update and you have any questions, please feel free to email support@nugenaudio.com. For more complex queries, I'm always happy to arrange a one-on-one screen sharing session over Skype or Zoom.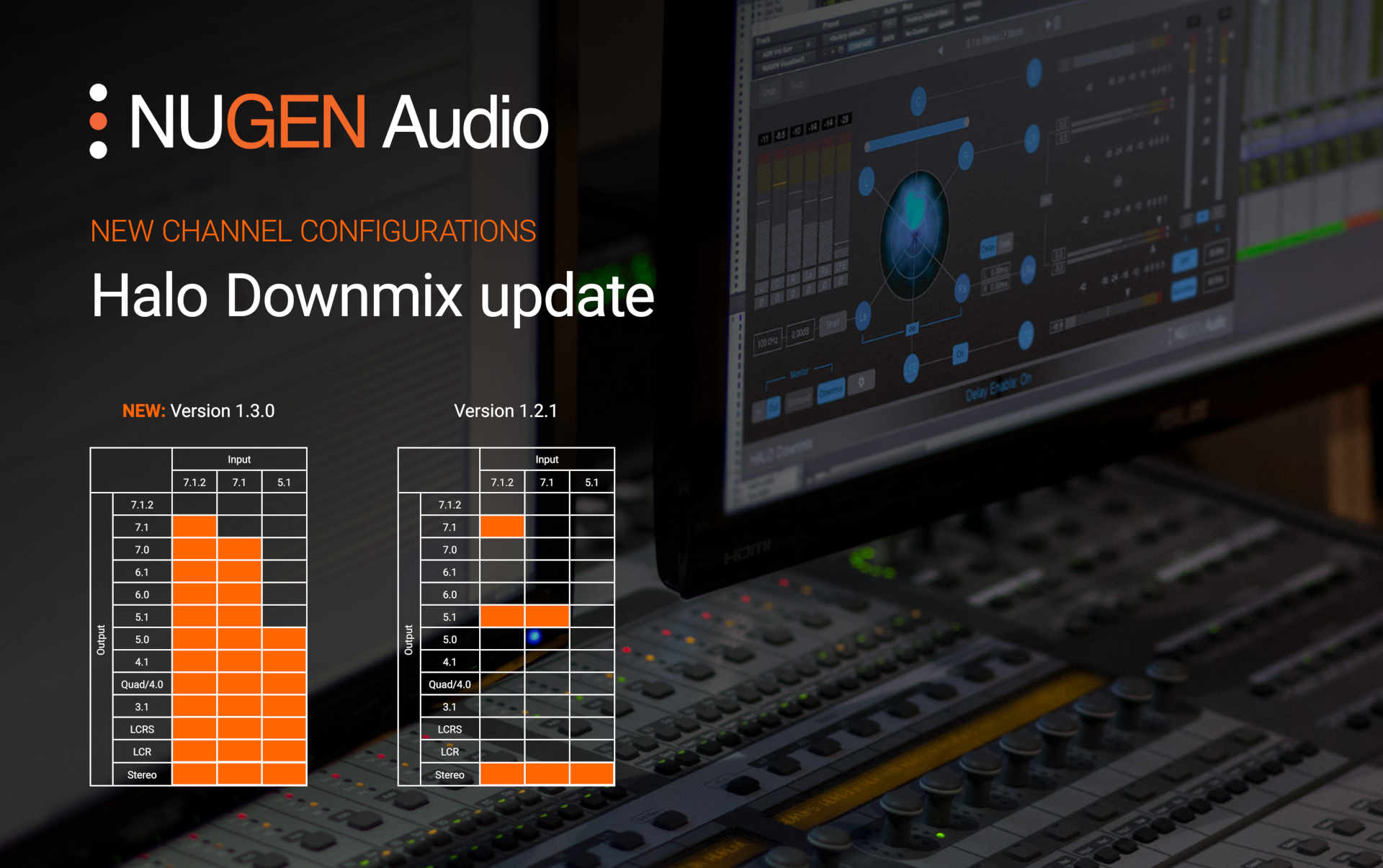 Newsletter sign-up
Enter your email address for NUGEN Audio product news, offers, tips and interviews