Essential bass management
×
Select product

Bring transparent solidity to your bass; sharpen, define and align for the tightest mix. Monofilter anchors your bass with ease, while retaining the perceived spatial characteristics of the original sound.

3 award winning plug-ins supplying reliable, full-frequency stereo enhancement, correction and bass management.
Bundle includes: Stereoizer, Monofilter & Stereoplacer

9 elite plug-ins delivering deeper control over your full production workflow.
Bundle includes: Paragon ST, MasterCheck, Stereoizer, Monofilter, Visualizer, ISLst, SEQ-ST, Stereoplacer & SigMod

Adds:
ISL DSP

,
Halo Upmix 3D, Halo Downmix 3D
The full range of NUGEN's audio post tools. A master set of 12 plug-ins with uncompromising quality and creativity.
Bundle includes: VisLM, Halo Upmix, Paragon, ISL, LM-Correct & DynApt Extension, Stereoizer, Halo Downmix, SEQ-S, Visualizer, Monofilter, Stereoplacer & SigMod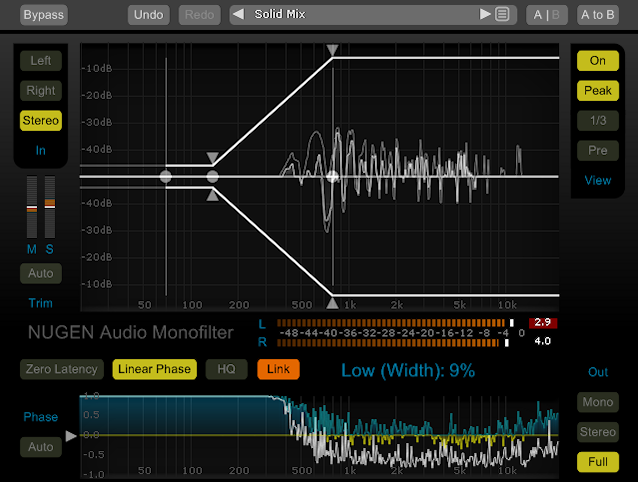 When solid or natural sounding bass is a requirement in your recording projects, Monofilter provides the foundation for real power and definition. Bring transparent solidity to your bass; sharpen, define and align for the tightest mix.
Monofilter defines the centre of your bass, so easily lost through stereo effects processing, synth sound generation, unwanted phase inconsistencies and live recording microphone bleed. Market-leading features give accurate control over stereo spread, transition and phase alignment, with precise visual feedback in a tactile interface that lets you grab the applied stereo envelope and manipulate it directly – without using abstract parameters and knobs.
With presets for every situation and intuitive controls for fine tuning to perfection, Monofilter anchors your bass with ease, while retaining the perceived spatial characteristics of the original sound.
Independent mono & stereo trim
Stereo spectrum analysis
Zero Latency option
Linear Phase option
HQ mode
Phase correlation control
Monofilter offers powerful fine-tuning of your low end sounds and their interaction with higher frequencies. The plug-in's highly tweakable parameters include a high pass filter, plus independent width control of user-defined high and low frequencies.
These width controls range from completely mono at their minimum point, to completely unchanged at their maximum. The changes are clearly displayed in an easily intuitive stereo width envelope.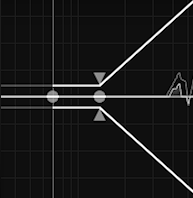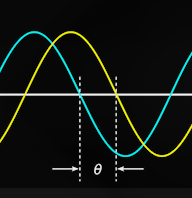 Automatic phase alignment
Stereo effects which use phase shifting can cause cancellations and superpositions of certain frequencies when played back in mono. Monofilter includes a Phase control which can correct phase imbalance below its threshold frequency by adjusting the phase of the L and R components being summed.
This function has an auto mode which can be especially useful for input signals with a dynamic phase shift.
With multiple algorithm settings, you can easily choose the most appropriate for the task at hand, including zero-latency for recording and linear-phase for general mixing. Switch in HQ mode for ultimate definition during mastering.
Monofilter becomes especially useful when mastering for vinyl. Vinyl has difficulty reproducing stereo information in the low frequencies, and wide stereo frequencies in the bass can cause the needle to jump upon playback, so the track has to be cut at a lower level to compensate.
Monofilter's Zero Latency algorithm has been designed with low CPU usage in mind, making it ideal for live and recording applications where low latency is essential. The 'link' control can be used to switch all Monofilter instances to the same algorithm simultaneously.
In a live context, you can use Monofilter to maintain even power distribution, and to reduce the width of hard-panned effects. This can be important in larger venues where many audience members' listening experience may be dominated by a single speaker stack, leaving them unable to experience the full stereo image.
Different playback systems and mediums have different requirements and low frequency ranges. If the intended playback medium is known, then Monofilter can be adjusted to make full use of the available headroom and optimised to take into account the low frequency handling available. Some likely ranges are as follows
Laptop
Minimum frequency 200Hz;
TV
Minimum frequency 90Hz
Computer game 2.1 system
Minimum frequency 50Hz
Hi-fi
Minimum frequency 35-50Hz; low frequency crossover 80-150Hz
Home theatre
Minimum frequency 35Hz; low frequency crossover 80-160Hz
Club PA
Minimum frequency 20Hz; low frequency crossover 90-250Hz
Vinyl
Minimum frequency n/a; low frequency crossover 70-150Hz
Bringing definition to weak bass
Re-centering low frequencies
Correcting phase issues
Restoring old masters
Mastering for vinyl
Optimising for louder playback
Ensuring mono-compatibility
Fixing samples
Expand your stereo image. Mono to stereo, stereo to super-wide and everywhere in between. Natural extension or extreme effects, Stereoizer provides it all.
FIND OUT MORE
We support AAX, VST3, AU and AudioSuite in 64-bit.
NUGEN Audio is in the process of phasing out some older plug-in formats. Our most recently updated products no longer support 32-bit or RTAS/VST2. Customers who still wish to use these formats can download a legacy installer from the Build Archive.
Minimum system requirements
Mac OSX 10.9 / 512 MB RAM
Windows 7 / 512 MB RAM
Newsletter sign-up
Enter your email address for NUGEN Audio product news, offers, tips and interviews