×
Select product

Precise and intuitive downmixing tool. Produce better downmixes and enhance the downmix compatibility of your surround mixes.

Adds:
ISL DSP

,
Halo Upmix 3D, Halo Downmix 3D
4 plug-ins to upmix, downmix, create, hone and reshape your sound - Surround Suite delivers all the control you need to fine-tune your surround mix to perfection.
Bundle includes: Halo Upmix, Halo Downmix, ISL & SEQ-S

Adds:
ISL DSP

,
Halo Upmix 3D, Halo Downmix 3D
The full range of NUGEN's audio post tools. A master set of 12 plug-ins with uncompromising quality and creativity.
Bundle includes: VisLM, Halo Upmix, Paragon, ISL, LM-Correct & DynApt Extension, Stereoizer, Halo Downmix, SEQ-S, Visualizer, Monofilter, Stereoplacer & SigMod
Halo Downmix enables precise downmixing, surround balancing, mix monitoring and sophisticated stereo fold-down. The glue that brings your workflow together, allowing you to deliver in surround and stereo with ease, and without compromise.
Produce better downmixes and enhance the downmix compatibility of your surround mixes, with an interface perfectly designed for the task in hand. Halo Downmix is the ideal complement to any surround workflow.
Streamline your workflow with versatile downmix balancing and mix monitoring.
Downmix surround-to-stereo
Fine-tune surround-to-surround
Regulate low frequency content
Maintain dialog clarity
Control excess ambient sound
Remove delay artefacts
Monitor surround and stereo in-place
Expert surround-to-stereo
Using standard downmix coefficients can sometimes lead to unsatisfactory results, particularly if legacy upmixing practices were used for the original surround mix. Halo Downmix quickly mitigates these issues and produces a more coherent stereo mix, controlling excessive diffuse sound from artificial reverb, and removing delay artefacts from the rear channels.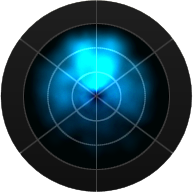 Fine-tune surround-to-surround
Adjust existing 5.1 or 7.1 mixes in surround-to-surround mode. Individual channels, and the balance between direct/diffuse sound can be adjusted to fine-tune or re-balance surround audio where access to the original mix is not possible.
The 3D Immersive Extension option for Halo Downmix adds the ability to downmix from 7.1.2 and 7.1.4.
Halo Downmix can also be used in conjunction with the NUGEN Receive plug-in (included) to enable a parallel surround/stereo workflow. This allows for rapid A/B checks between the full surround mix and the stereo downmix.
Flexible, intuitive interface
Halo Downmix provides a highly creative solution for precise downmixing. Intuitive, visual controls for relative levels, timing, and direct/ambient sound balance allow unprecedented fine-tuning, delivering accurate downmixes no longer limited by typical in-the-box processes.
Halo Downmix's highly customisable interface includes both advanced & compact modes, with quick-select 'in-place' monitoring of stereo and surround signals, as well as quick linked solo and mute functions at every stage, and clear visualisation of surround energy distribution.
Surround-to-stereo downmixing
Surround re-balancing and fine-tuning
Simultaneous surround/stereo workflow
Surround restoration
Stereo production within a surround workflow
Maintaining dialog clarity in surround
Removing rear-delay artefacts from legacy upmixing practices
From naturally extracted and expanded soundscapes to full cinematic big-stage enhancement, Halo Upmix delivers all the control you need to produce and fine-tune your surround mix to perfection.
FIND OUT MORE
We support AAX, VST3, AU and AudioSuite in 64-bit.
NUGEN Audio is in the process of phasing out some older plug-in formats. Our most recently updated products no longer support 32-bit or RTAS/VST2. Customers who still wish to use these formats can download a legacy installer from the Build Archive.
Minimum system requirements
Mac OSX 10.9 / 512 MB RAM
Windows 7 / 512 MB RAM
Newsletter sign-up
Enter your email address for NUGEN Audio product news, offers, tips and interviews