Stereo to 5.1, 7.1 and 3D upmixer
×
Select product
Stereo to Surround & 3D Upmixing

From naturally extracted and expanded soundscapes to full cinematic big-stage enhancement, Halo Upmix delivers all the control you need to produce and fine-tune your surround mix to perfection.

Adds:
ISL DSP

,
Halo Upmix 3D, Halo Downmix 3D
4 plug-ins to upmix, downmix, create, hone and reshape your sound - Surround Suite delivers all the control you need to fine-tune your surround mix to perfection.
Bundle includes: Halo Upmix, Halo Downmix, ISL & SEQ-S

Adds:
ISL DSP

,
Halo Upmix 3D, Halo Downmix 3D
The full range of NUGEN's audio post tools. A master set of 12 plug-ins with uncompromising quality and creativity.
Bundle includes: VisLM, Halo Upmix, Paragon, ISL, LM-Correct & DynApt Extension, Stereoizer, Halo Downmix, SEQ-S, Visualizer, Monofilter, Stereoplacer & SigMod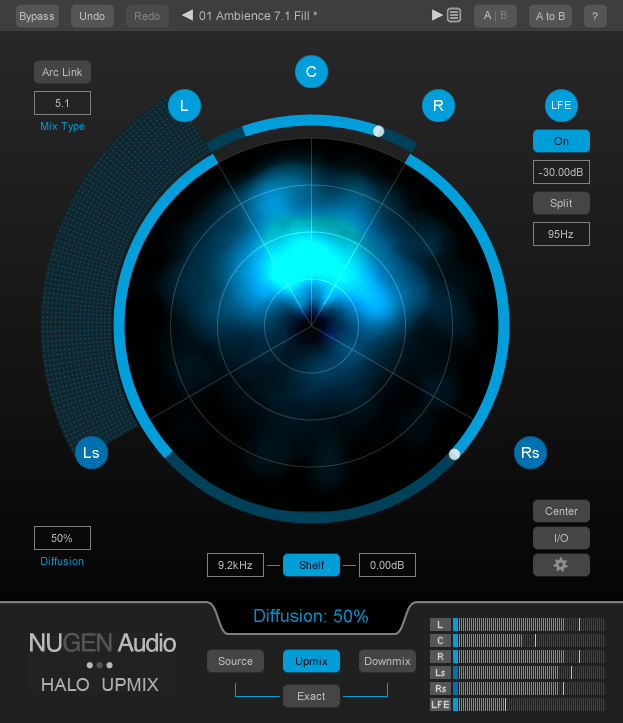 Full control, intuitive ease
From naturally extracted and expanded soundscapes to full cinematic big-stage enhancement, Halo Upmix delivers all the control you need to fine-tune your surround mix to perfection. With unique centre channel management, including switchable dialog extraction, Halo Upmix is perfect for all types of production from archive restoration and TV through to the full 7.1 feature film experience.
An optional 3D extension adds Dolby Atmos bed track (7.1.2) and Auro 3D (7.1.4) compatibility, and Ambisonic outputs.
The Halo Upmix algorithms produce a natural, coherent spatial upmix, preserving the character of the original audio without adding any artificial reverb, chorus or delays.
With the 'Exact' control engaged, Halo Upmix can be used with confidence that the original source integrity is precisely preserved in the downmix.
Powerful real-time analysis of the original stereo material identifies and extracts locational cues to naturally extend the panorama, leaving the inherent character of the original source intact.
Coherent spatial upmix
Full access to surround balances
Low frequency energy control
Clear visual feedback
Direct control over upmix parameters
No artificial reverb, chorus or delays
'Exact' downmix mode with in-place audition
Neural network dialog extraction
Powerful spatial analysis
Halo also includes a powerful spatial analysis view, intuitively showing the energy distribution of the upmixed panorama. Colour can additionally be used to indicate the speaker source for audio in any position, clearly indicating cases including phantom vs hard centre predominance.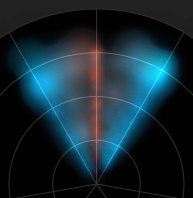 Because Halo Upmix generates a coherent spatial sound, you can be assured of a high-quality downmix. The 'exact' mode function ensures ultimate downmix performance in situations where maintaining the relationship between the original, upmixed and downmixed versions is imperative, for example in TV repurposing.
The optional 3D Immersive Extension introduces additional vertical controls via an expanded user interface including control over Ltm and Rtm placement for Dolby Atmos compatibility. An additional real-time analysis view is also included for the vertical dimension, showing energy distribution of the output audio. The enhanced upmix algorithm allows for simultaneous use of all the original features including dialog isolation and individual channel output control.
The 3D Immersive Extension is suitable for numerous applications including sound design, film score, restoration & archive, music and atmospheric soundscape production.
With surround delivery requirements becoming more and more common, Halo Upmix can be indispensable. Providing sophisticated control including neural network powered dialog isolation Halo transforms time intensive workflows and improves output quality with ease.
With powerful control accessing every dimension of the upmix, Halo is indispensable for upmixing original and vintage scores - right up to Dolby Atmos and Auro 3D with the 3D Immersive extension.
Multiple instances in sound design and score work on synths, stereo FX archive and effects returns breath life and energy into the sound in ways that legacy delay and panning techniques can't approach - all with a solid reasurrance of a highly downmix compatible result.
With optional Ambisonic format output, Halo Upmix is equally at home when working in a VR and game audio environment.
To suit almost any situation
Upmixing includes LCR, 3.1, 4.0, 4.1, 5.0, 5.1, 6.0, 6.1, 7.0 & 7.1.
The Halo Upmix 3D Immersive Extension expands this to 7.1.2, 7.1.4 and Ambisonic, and currently supports Avid Pro Tools (AAX) & Steinberg Nuendo (VST3) for Windows and OSX.
Stem and group upmixing
7.1 cinematic sound stage enhancement
TV stereo to surround upmixing with hard centre
Repurposing of original stereo for cinematic release
TV archive enhancement for 5.1 broadcast
Natural extension of original stereo panoramas and atmospheres
Upmix to Dolby Atmos compatible 7.1.2 and 7.1.4 (3D Immersive Extension required)
Upmix to 1st, 2nd & 3rd order Ambisonic (AmbiX format) for VR applications (3D Immersive Extension required)
Precise and intuitive downmixing tool. Produce better downmixes and enhance the downmix compatibility of your surround mixes.
FIND OUT MORE
We support AAX, VST3, AU and AudioSuite in 64-bit.
NUGEN Audio is in the process of phasing out some older plug-in formats. Our most recently updated products no longer support 32-bit or RTAS/VST2. Customers who still wish to use these formats can download a legacy installer from the Build Archive.
Minimum system requirements
Mac OSX 10.9 / 512 MB RAM
Windows 7 / 512 MB RAM
Newsletter sign-up
Enter your email address for NUGEN Audio product news, offers, tips and interviews