Comprehensive audio analysis suite
×
Select product

Powerful, flexible audio analysis, giving you immediate access to precisely the information you need, when you need it, through a unique, intelligent window system.

9 elite plug-ins delivering deeper control over your full production workflow.
Bundle includes: Paragon ST, MasterCheck, Stereoizer, Monofilter, Visualizer, ISLst, SEQ-ST, Stereoplacer & SigMod

Adds:
ISL DSP

,
Halo Upmix 3D, Halo Downmix 3D
The full range of NUGEN's audio post tools. A master set of 12 plug-ins with uncompromising quality and creativity.
Bundle includes: VisLM, Halo Upmix, Paragon, ISL, LM-Correct & DynApt Extension, Stereoizer, Halo Downmix, SEQ-S, Visualizer, Monofilter, Stereoplacer & SigMod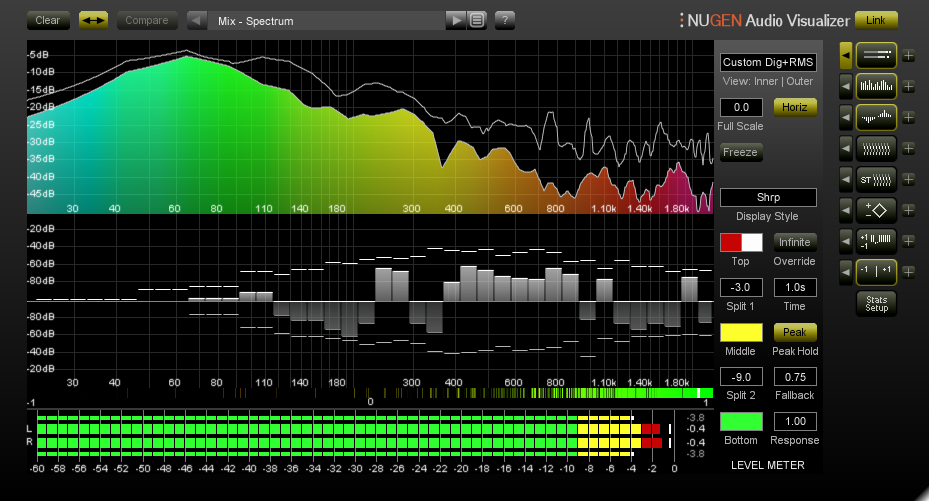 Measure, understand, correct
Visualizer gives you an indispensable set of audio analysis tools for quality audio production, with a standardised reference set of professional views which allow you to work faster, avoid mistakes and repeat past success.
A fully resizable, flexible interface presents all the information you need in a single plug-in window, saving time and reducing plug-in juggling complexity.
All views are highly customisable, each with an individual settings panel. Visual solo controls allow for instant inspection of any view from the click of a single button.
Powerful, flexible audio analysis, giving you immediate access to precisely the information you need, when you need it.
Resizable interface
Intelligent window optimization
Stand-alone and plug-in versions
Stereo spectrogram
Vectorscope
Stereo bias meter
Peak hold control
Correlation by frequency
FFT spectrum analysis
Frequency/dB zoom & scroll
Single intelligent window system
Visualizer's unique intelligent window facility lets you select multiple view combinations, automatically resizing and aligning windows to maximise legibility and cross referencing information across screens. No need to switch between plugins to get the combination of views you want. User configurable presets let you switch instantly between setups and interface sizes to build the workflow that suits you.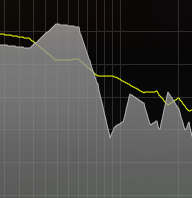 Comparison mode allows the direct comparison of two sources within a single Visualizer interface, utilising overlay, side-by-side and differential views. Ideal for examining the difference before and after a mastering signal chain or for comparing spectra in preparation for EQ matching or notching out.
Visualizer's intuitive display can be used for setting input levels, checking the phase relationship of your audio sources, and understanding the acoustics of a studio space, either by identifying problem frequencies or alerting you to unwanted noise in your signal path.
Use Visualizer to see and identify fundamental, characteristic or hidden frequencies in a recording, in order for you to EQ or even completely notch out problem frequencies. Detailed analysis of stereo placement, which can be particularly important for centering lead vocals, and for low end control.
Visualizer can be used for visual A/Bing of stereo spread and sonic fingerprinting, as well as checking phase relationships. Monitor your low frequencies and headroom, as well as examining dynamics and ensuring your project meets broadcast standards.
Clear and accurate phase analysis including overall Correlation, Correlation History, Vectorscope and Correlation by Frequency gives a highly accurate picture of your audio, allowing you to avoid potential cancellation problems and phase issues. Visualizer allows you to deliver robust, compliant audio with confidence.
Stereo and low frequency analysis ensures audio is suitable for TV broadcast by allowing you to easily monitor energy distribution and image stability.
Multiple frequency analysis views and comparison modes enable simple monitoring of stems to avoid masking dialog clarity issues.
For Avid HDX hardware compatibility, the software is also available in a DSP version. Please note that the DSP version uses AAX Hybrid functionality, which is not supported by the HDX Hybrid Engine.
Mic-ing up and setting levels
Detailed analysis of the stereo field
Checking for phase cancellation
Identifying fundamental frequencies
Zoning in on problem frequencies
Examining phase relationships
Analysing dynamics
"Every aspect of Visualizer is customisable down to the finest detail"
Declan McGlynn
MusicTech review
Loudness compliance perfectly integrated into your workflow, using a clear resizeable interface and ground breaking ReMEM automated loudness memory technology.
FIND OUT MORE
We support AAX, VST3, AU and AudioSuite in 64-bit.
NUGEN Audio is in the process of phasing out some older plug-in formats. Our most recently updated products no longer support 32-bit or RTAS/VST2. Customers who still wish to use these formats can download a legacy installer from the Build Archive.
Visualizer is also available as a stand alone application for Windows and OSX.
Minimum system requirements
Mac OSX 10.9 / 512 MB RAM
Windows 7 / 512 MB RAM
Newsletter sign-up
Enter your email address for NUGEN Audio product news, offers, tips and interviews